SALENTE L5, laser robotic vacuum cleaner (wet wiping and charging station)
360° laser-guided navigation during cleaning, mobile app in Czech, possibility of mopping, innovative foam roller, adapts to the floor surface, automatic continuation of cleaning, central TURBO brush and two side brushes
Category

:

Advanced navigation
Warranty

:

2 years
Weight

:

5.595 kg
EAN

:

8595683200875
Obj.kód

:

ROB RTX-L5
A powerful laser-guided vacuum cleaner with the possibility of mopping
The Salente L5 vacuum cleaner is equipped with the most advanced space orientation technology on the market. 360° laser radar, SLAM algorithm, and gyroscopic navigation for the precise localisation of the vacuum cleaner and ideal movement around the apartment. The vacuum cleaner moves with great precision, avoiding locations that have already been cleaned, thereby ensuring cleaning is fast and effective.
Rotating foam roller works on fine dust and coarse impurities.
Its revolutionary rotating foam roller was developed to completely vacuum up even the finest particles of dust from hard floors. At the same time it effectively collects coarse impurities, making it the best ever solution for vacuuming hard floors.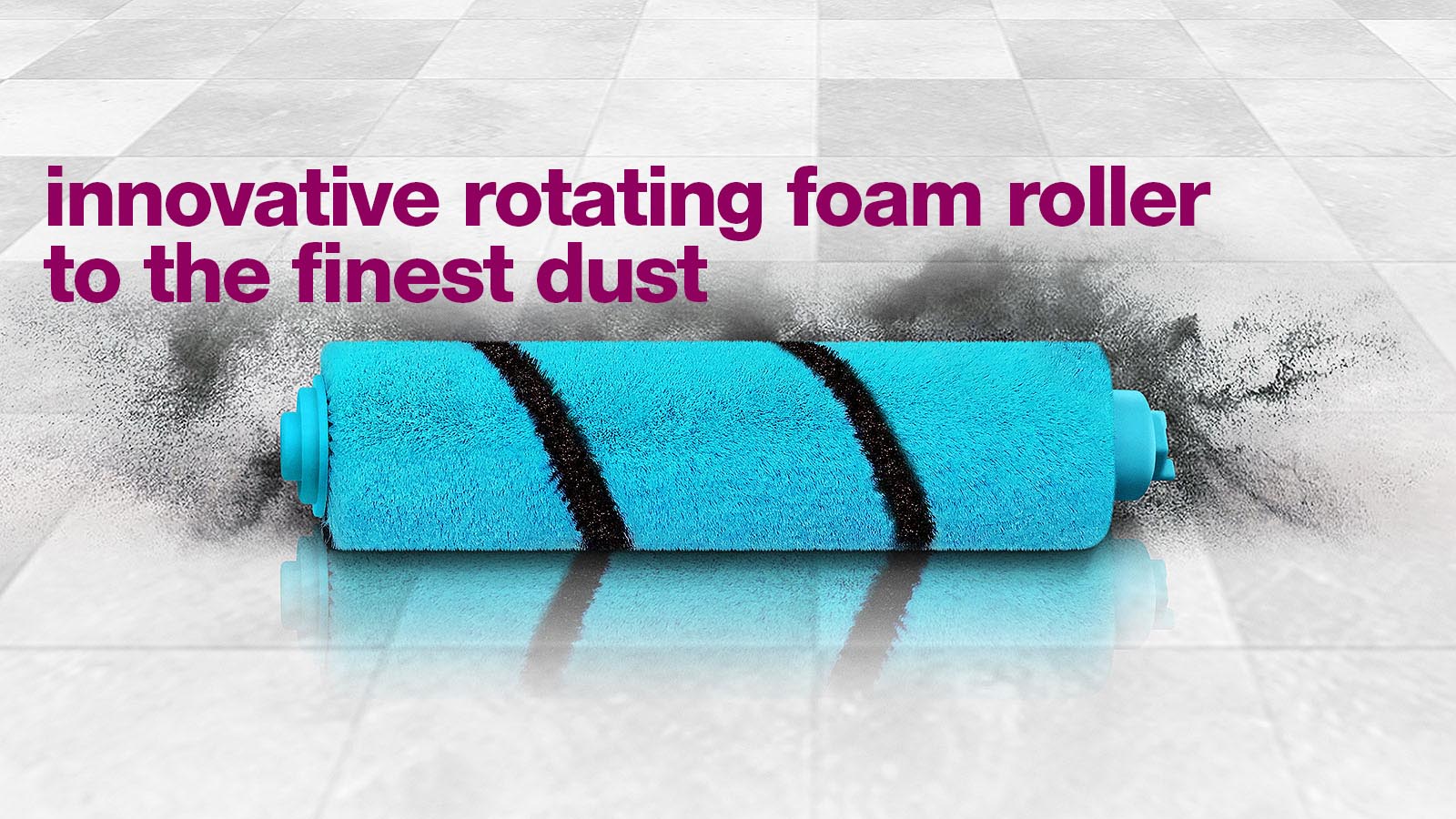 Intelligent mopping
The vacuum cleaner is equipped with a large 400 ml water container and a microfibre mop, allowing it to clean more than 200 m2 of floor surface per filling. Three mopping settings in the mobile app, together with an electronically controlled water tank, ensure a constant supply of just the right amount of water, making the vacuum cleaner suitable for wooden floors.
Adaptation to different floor surfaces
The vacuum cleaner automatically detects the your type of floor and adapts to it. After moving onto a carpet or rug, it increases its power to make cleaning more effective, and returns to the standard setting when back onto a tiled floor.
Three suction modes
Apart from automated power shifts in response to surface types, you can manually choose between three suction modes in the mobile app. You can also set maximum power for very untidy areas, and silent, lowest power mode for every-day cleaning, or when your favourite programme is on TV. With its large 600 ml dust container, you do not need to worry about constantly emptying the cleaner.
Three filtration levels with a washable HEPA filter
Three-level filtration with the washable HEPA filter helps capture fine dust, allergenic mites, and animal allergens. It also prevents small particles from escaping back into the air. Maintaining the vacuum cleaner is simple and you do not need any disposable paper bags. The HEPA filter is washable and can be used repeatedly.
Mobile app in Czech
The Salente L5 robotic vacuum cleaner can be controlled via a mobile app on your phone or tablet. After connecting it to your WiFi, you can control the vacuum cleaner wherever you are. The app allows you to easily choose between three cleaning modes, three suction and mopping modes, preset cleaning with a postponed start, and to receive battery and robot status information. The app for Android and iOS is in Czech.
Real-time virtual map
The vacuum cleaner uses laser-guided navigation not just to find its way, but also to effectively map the cleaning area, creating an accurate virtual map of its surroundings. You can view the map in the mobile app and monitor the operation of the vacuum cleaner. You can also use it to easily set a specific cleaning area or erect virtual walls that the vacuum cleaner cannot cross.
Voice control
The Salente L5 supports modern, voice-control technologies. It is compatible with Amazon Alexa or Google Home, and can be controlled by voice. You can also operate it using the mobile app and the supplied remote control.
Automatic continuation of cleaning
This means that the vacuum cleaner will resume from the place where it left off. It also automatically recognises when to empty the dust bin and refill the water tank. What is more, it never cleans the same area twice. No matter how large a space you need cleaned, the vacuum cleaner simply charges itself whenever needed before going back to cleaning until its job is done.
TOF sensor and anti-fall sensors for stairs and landings
The vacuum cleaner is equipped with a number of sensors to protect it and your furniture from falls and collisions. The TOF sensor ensures problem-free movement around glass and black walls.
Central TURBO brush and two side brushes
The rotating central brush effectively cleans both carpets and smooth floors. Combined with the two side brushes, you do not have to worry about difficult-to-reach spaces around furniture, walls and corners.
Powerful modern BLDC motor
The high-performance BLDC motor provides a long service life and is more reliable, quieter and more efficient than classic motors.
Moves smoothly over and through the cleaning area
The large wheels and powerful motor can carry it over obstacles up to 20 mm high, including thresholds and carpets.
High-capacity battery
The 3200 mAh high-capacity Li-ion battery provides enough energy for long cleaning. When the device detects the battery is low, it will automatically go to the charging station and then resume from where it left off, making it perfect for cleaning large spaces.
---
• 360° laser radar, LDS + SLAM algorithm
• innovative foam roller for hard floors
• controlled via a mobile app in Czech
• real-time virtual map + virtual walls
• automatically resumes cleaning
• adapts to floor surfaces
• Alexa/Google Home voice control
• three suction modes
• three mopping modes
• central TURBO brush and two side brushes
• sensors protecting the device and your furniture
• TOF sensor for detecting glass/black walls
• three filtration levels with a washable HEPA filter
• premium anti-scratch, hardened glass surface
• mopping
• dry sweeping with a mop to remove fine dust
• postponed start feature
• no paper bags
• automatic charging at a charging station
• supports WiFi
• firmware updates via the compatible mobile app
• modern and quiet Japanese NIDEC BLDC motor with a high output power (46 W)
• high suction power (up to 1,800 Pa)
• dust container (600 ml)
• electronically controlled water container (400 ml)
• 3200 mAh high-capacity Li-ion battery
• infrared remote control
• diameter 350 mm
• height 80 mm (100 mm including the laser)
• weight 3.35 g
Package contents
• Salente L5 robotic vacuum cleaner
• dust container for vacuuming (600 ml)
• water container for wet mopping (400 ml)
• innovative foam roller for hard floors
• infrared remote control
• charging station
• 230 V power source
• replacement HEPA filter
• replacement microfibre mopping cloth
• 2 replacement side brushes
• small cleaning brush
• user manual
S
Salente
The vacuum cleaner has two modes: mopping and vacuum cleaning. You can only use one mode at a time. The mopping mode is also suitable for dust removal.
Reply
J
Mopping and vacuum cleaning in one go
Jarek
Hello, does the vacuum cleaner also collect dust when mopping? Thank you.
Reply
S
Can the vacuum cleaner be controlled without the mobile app?
Salente
Yes, the vacuum cleaner can also be controlled using the attached remote control, without the mobile app or internet.
Reply
S
Can I control the vacuum cleaner from anywhere when using the mobile app?
Salente
Yes, the mobile app allows you to control the vacuum cleaner over the internet, wherever you are. You do not need a public IP address.
Reply
Be the first who will post an article to this item!