Those days when blenders just blended are long gone. Today's multifunctional blenders have a range of functions: cooking, slow cooking, steaming , grinding hard foods in a metal grinder, or even making a frappé. The Salente Mixi 2L is a multifunctional high-speed blender offering all these functions. You can use it to make roast tenderloin of beef, creamy soups, chick pea mash, jams, and soy milk.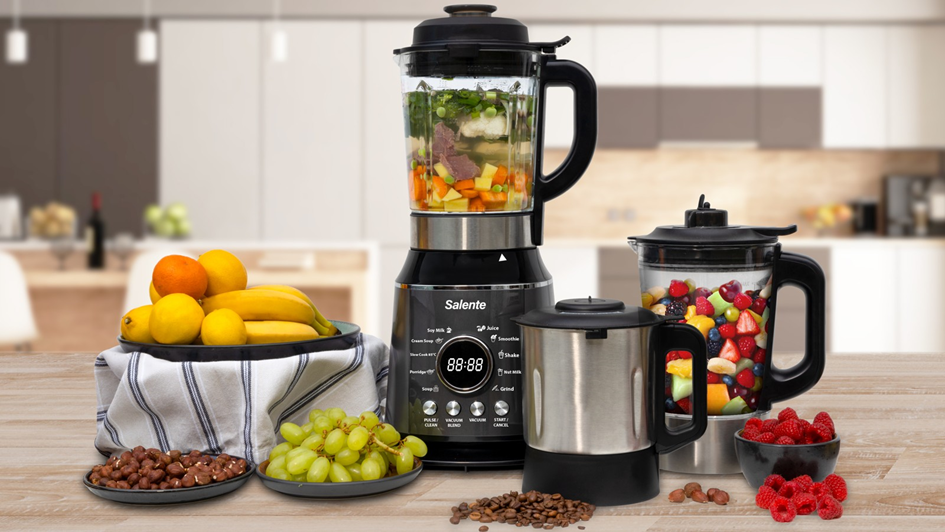 Important parameters of the Salente Mixi 2L stand blender:
Functions
Ten automatic programmes: soy milk, cream soups, slow cooking at 85 °C, purees, traditional soups (no blending), baby food/juices, smoothies, cocktails, nut milk, and the blending programme (no cooking). Functions for preparing soy milk, for example, are appreciated by customers who prefer healthy foods and a lactose-free diet.
Power
Motor output: 1,000 W; heat output: 800 W.
Rotation speed
The rotation speed is 22,000 rpm. The number of revolutions shows how many times the blending blade rotates per minute. A speed of 1,000 rpm is enough for whipping, but for nuts, seeds or crushed ice, you need at least 20,000.
Safety
Your health is protected by a safety lock that makes sure all blender components have been correctly assembled.
Container capacity
The capacity of the blending container for the Mixi 2L multifunctional blender is 2 litres. This capacity is sufficient for making soups, smoothies or purees for a family of four.
Material
The more durable the material, the longer the life of the blender. The Mixi 2L cover is plastic, while the blending and cooling container is made of glass. The base of the cooking container is covered with Teflon, which prevents purees or jams from burning during cooking.
Accessories
If you buy, in addition to the Mixi 2L stand cooking blender, the Salente Mixi VA accessory, your Mixi 2L will become a vacuum blender and you will get the function of vacuum blending. If you buy the Salente Mixi GR accessory, you will also get the function for grinding hard foods, such as coffee, nuts, or ice, and for making frappés.
Recipes
The blender manual includes a selection of recipes for you to try. Soy milk, chick pea mash, roast tenderloin of beef , and others.
Technical specifications
Number of knives: 6 (two layers)
Motor output: 1,000 W
Rotation speed: 22, 000 rpm
Heat output: 800 W
Dimensions: 49 × 19 cm
Weight: 5.4 kg
Package contents
Salente Mixi 2L, including 1x 2 l cooking container
Cleaning brush
Measuring cup
Pusher
Steaming basket
Manual