SALENTE L7, laser robotic vacuum cleaner (wet wiping and UVC light sanitization)
360° laser navigation for cleaning
UVC LED lamp
Speaks English
Mobile app in English
Vacuums and mops at the same time
Y-mop mode
Floor surface adaptation
Automatic cleaning resume
Combined water and dust container
Innovative foam brush
Scheduled cleaning
Zone cleaning
Robotic vacuum cleaner with laser navigation and UV sterilisation that speaks English
Thanks to its 360° radar, the Salente L7 ensures effective and fast cleaning. It never covers the same area repeatedly and resumes cleaning from the spot where it stopped. It informs you of its status by voice commands in English, and you can control it from anywhere with the mobile app. The built-in UVC LED lamp rids the cleaned area of viruses, bacteria, and other pathogens and the new Y-mop mode ensures even more efficient cleaning. The package also includes a special foam roller for fine dust as well as a combined "vacuum and mop" container that allows you to mop and vacuum at the same time. The large 5200 mAh battery, efficient and powerful BLDC motor, and automatic cleaning function ensure that no space is too big for the Salente L7.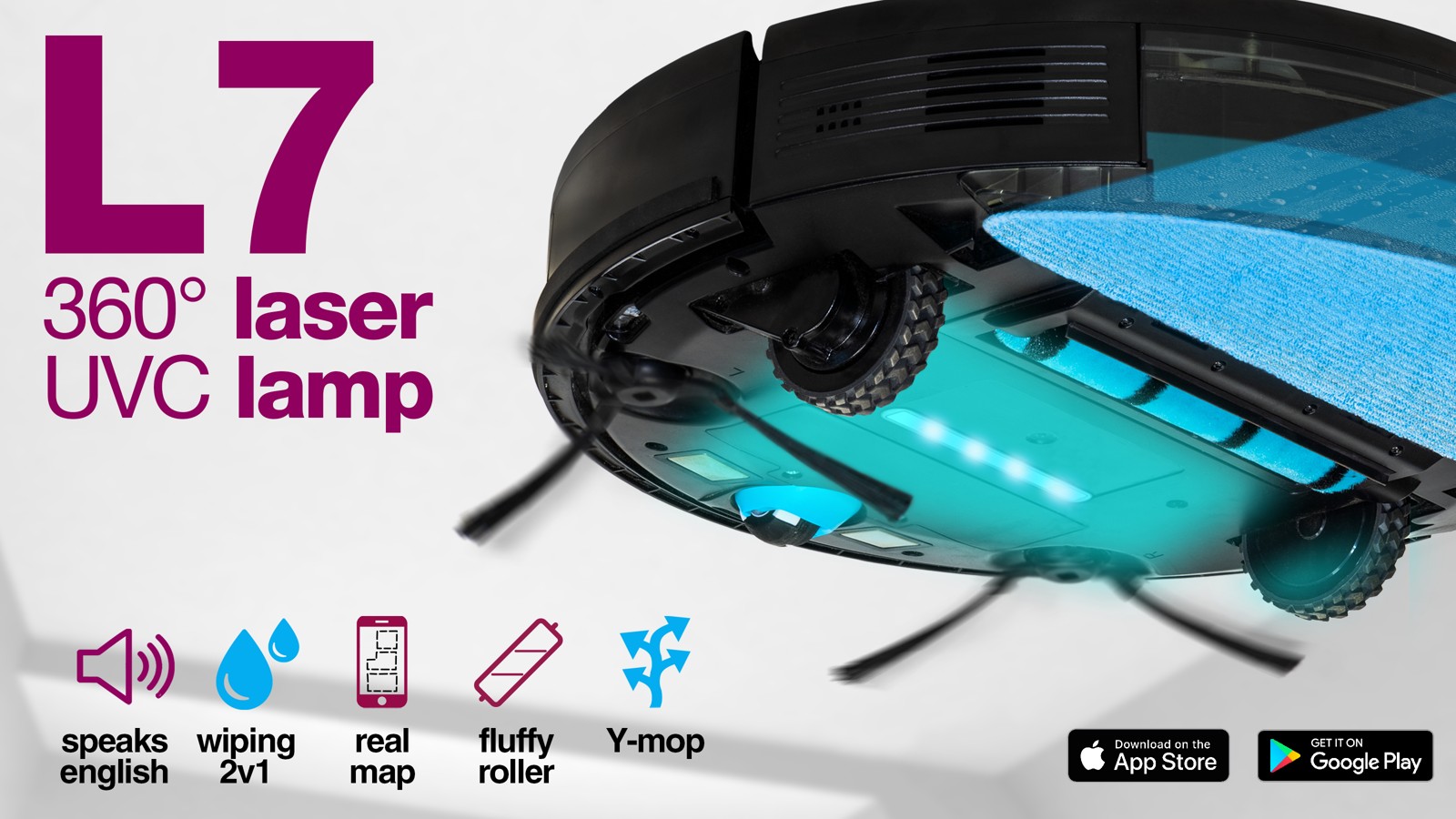 UVC lamp
The Salente L7 is equipped with a modern UVC LED lamp, which, by emitting UV-C radiation, destroys 99.99% of viruses and bacteria on the irradiated surface. The UV-C light damages the DNA and RNA of pathogens, eliminating their ability to reproduce, thus achieving fast, convenient, and effective disinfection. The UV-C lamp can be activated in standard cleaning mode using the mobile app or the remote control.
UVC sterilisation mode
This is a stand-alone cleaning mode where the primary goal is to sterilise the cleaned area. In this mode the robot moves significantly slower, reducing brush speed and suction power to achieve the most efficient level of sterilisation.
Y-mop wiping mode
For spotlessly perfect cleaning the robot is equipped with a new wet mopping mode – Y-mop. In this cleaning mode, the robot moves along a Y-shaped trajectory for more efficient cleaning. It can clean dried stains or rougher floor surfaces more easily.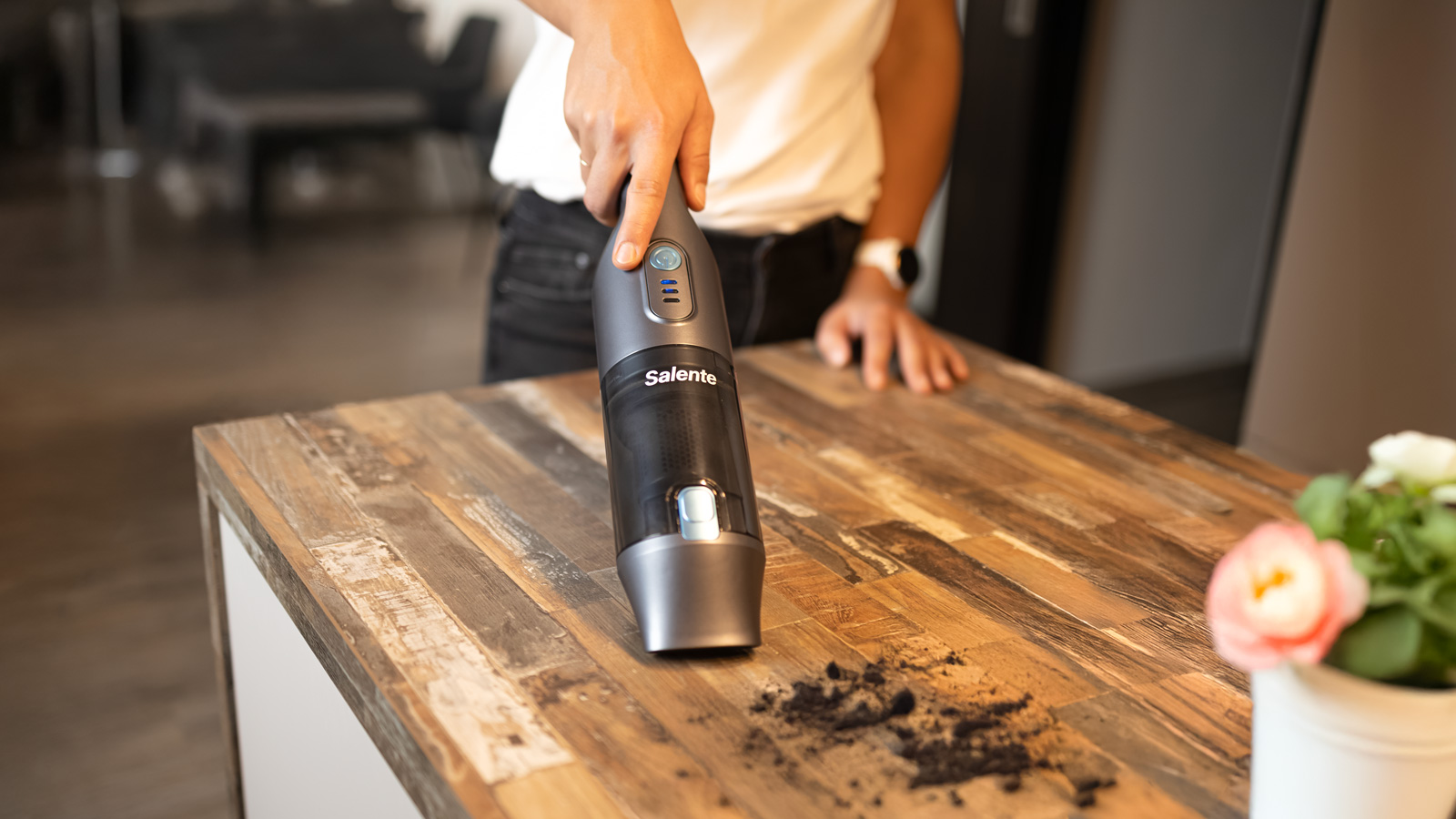 Speaks English
The vacuum cleaner speaks English. It will tell you when it has finished cleaning , low battery , and more than a hundred other situations. And that is one of the reasons the Salente L7 is so easy to use.
Mobile app offers control from anywhere
The intuitive Salente app allows you to control your vacuum cleaner from anywhere. It informs you of the current status of the vacuum cleaner, allows you to start different cleaning modes, set vacuuming or mopping levels, scheduled cleaning times, or times when you do not want to be disturbed. The app for Android and iOS is in English.
Voice control
The Salente L7 supports modern, voice-control technologies. It is compatible with Amazon Alexa or Google Home, and can be controlled by voice. You can also operate it using the mobile app and the supplied remote control.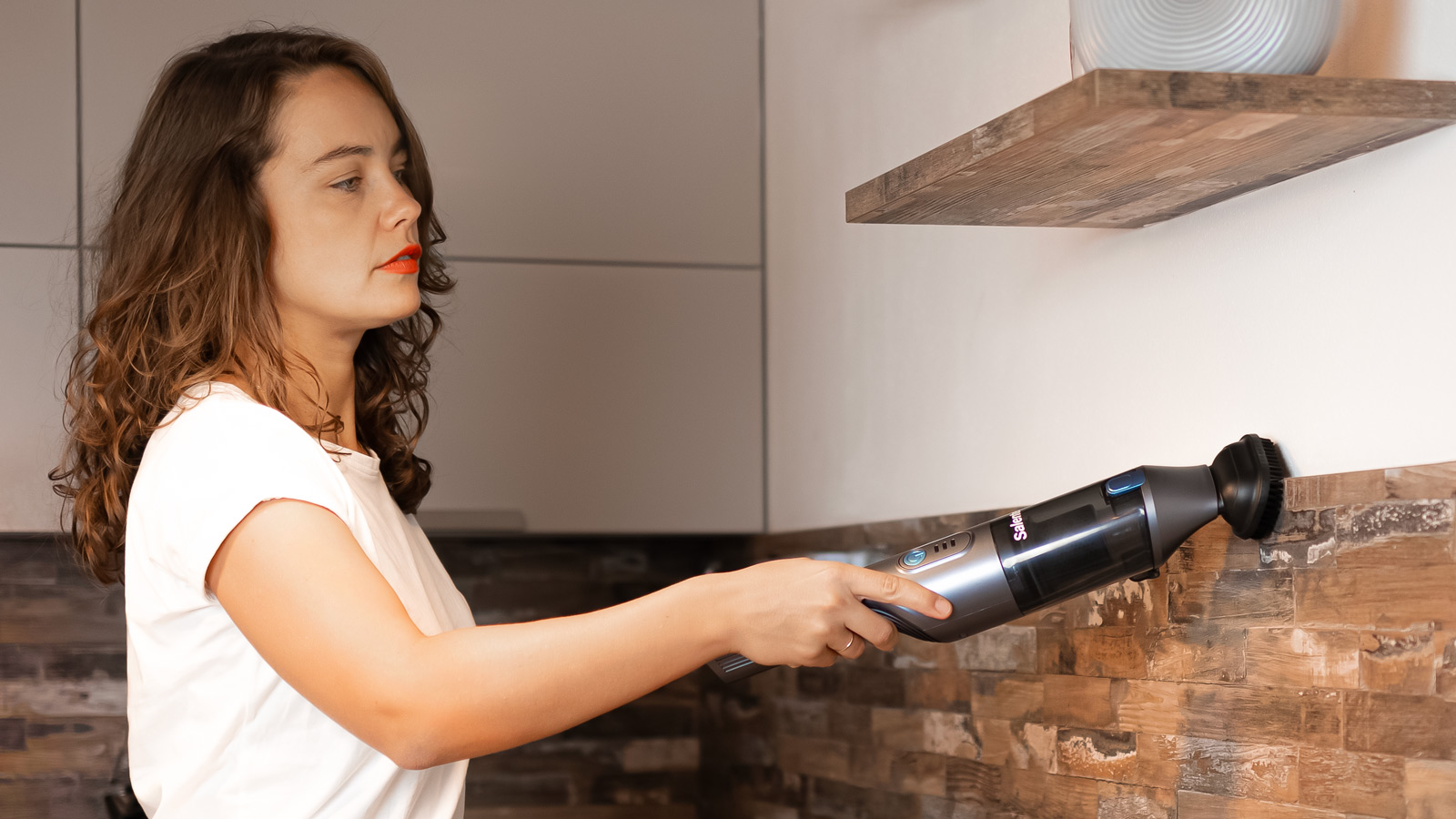 Vacuums and mops simultaneously
Salente L7 is equipped with a combined "vacuum and mop" container that allows full vacuuming and mopping at the same time. When fitted with this container, the vacuum cleaner vacuums and mops in one go, making cleaning even faster and easier. The electronically controlled dispenser can be set to three mopping levels and is therefore also suitable for wooden and parquet floors. If you only want to vacuum, the 600 ml dust container can be used.
Cleaning without viruses and bacteria
Add a suitable disinfectant to the water tank or directly onto the mop to achieve an even higher level of cleaning.
Three filtration levels with a washable HEPA filter
Three-level filtration with a washable HEPA filter helps capture fine dust, allergenic mites, and animal allergens. It also prevents small particles from escaping back into the air. The HEPA filter is washable and can be used repeatedly.

Rotating foam roller for fine dust and coarse impurities.
The device's revolutionary rotating foam roller was developed to completely vacuum up even the finest particles of dust from hard floors. At the same time, it also effectively collects coarse impurities, making it the best ever solution for vacuuming hard floors.
Central TURBO brush and two side brushes
The central TURBO brush with its combination of bristles and rubber blades is suitable for all types of floors or carpets, and can even handle pet hair. A pair of anti-static side brushes clean around furniture, along walls, and other hard-to-reach areas.
It moves smoothly over and through the cleaning area
The large wheels and powerful motor can carry it over obstacles up to 20 mm high, including thresholds and carpets.



Automatic resumption of cleaning
When cleaning is interrupted, for example by emptying the dust container or when battery voltage is low, the vacuum cleaner will pick up where it left off. This avoids repeatedly cleaning an already cleaned area.
Adapting to floor surfaces
The vacuum cleaner automatically detects your type of floor and adapts its performance to fit. After crossing onto carpets, the power is increased for more effective cleaning, and when returning to a tiled or wooden floor, the power returns to its original value.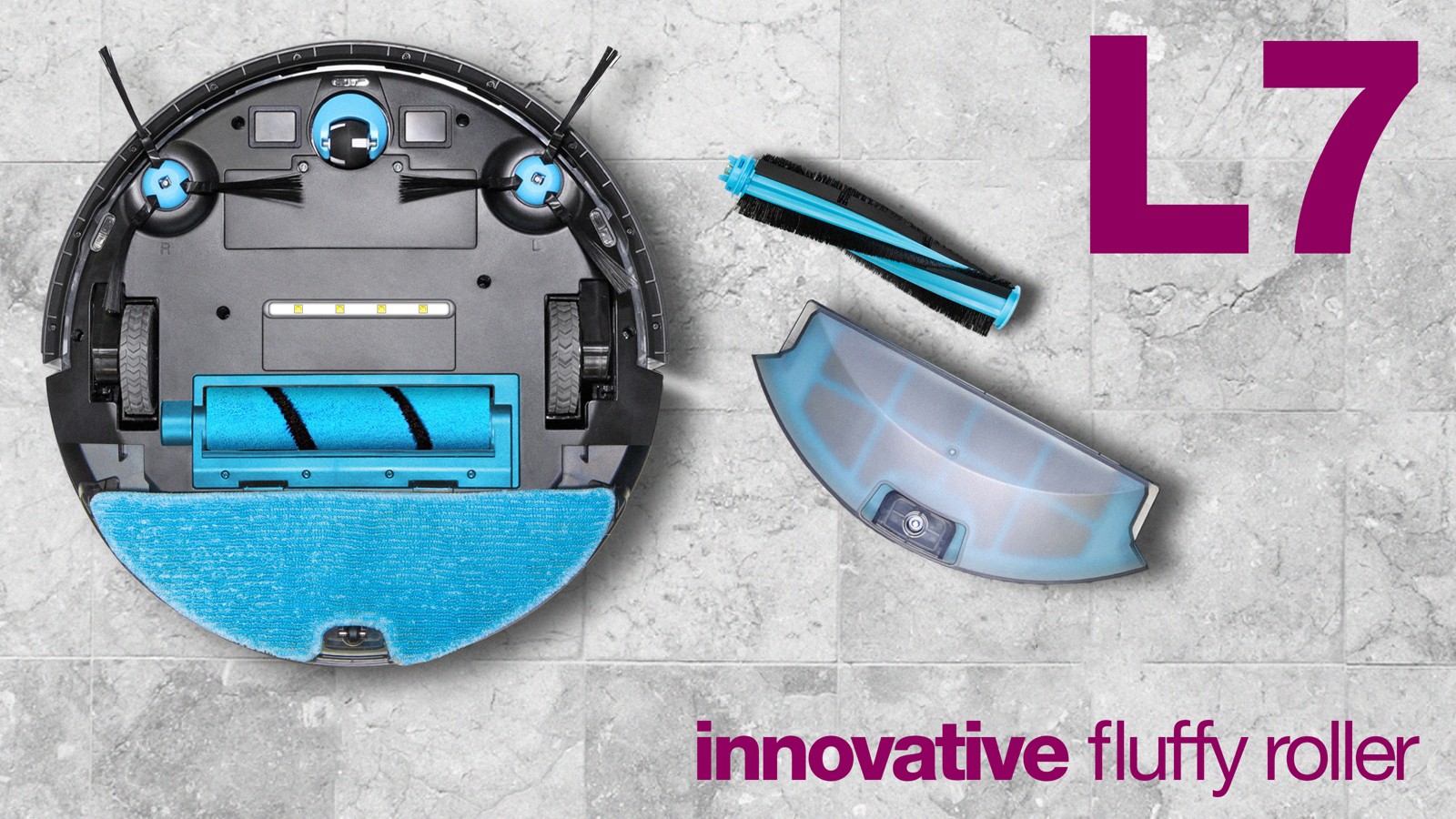 5200 mAh battery
The 5200 mAh high-capacity Li-ion battery provides power to clean for up to 250 minutes. Intelligent consumption control ensures that the vacuum cleaner recharges automatically if the battery is low and then resumes cleaning. So no matter how large a room you need to clean, the vacuum cleaner will always have the power it needs.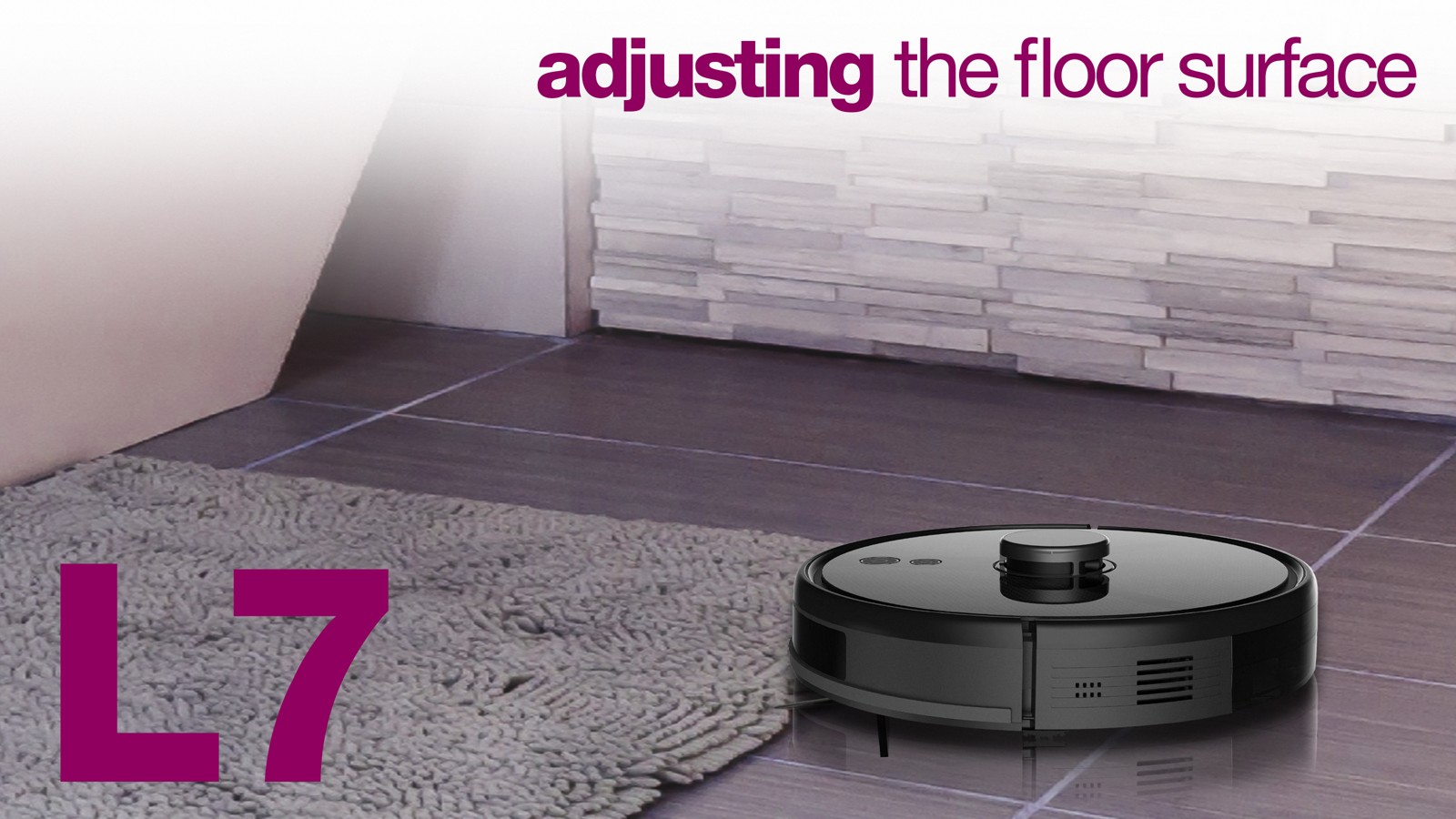 Detailed cleaning map
The Salente app includes a precise map of the cleaned area. You can see what has already been cleaned, you can send the robot to clean a specific place, or set the places where it should clean.
Setting up cleaning zones
In the mobile app you can select up to ten different cleaning areas. You can easily set the device to clean only the part of the apartment where you currently need it. You can also select a zone where the vacuum cleaner will run at maximum power and repeatedly, which is useful for places like your entrance hall. Additionally, you can set up areas into which the vacuum cleaner is not allowed to enter – virtual walls. This is useful when mopping, for example, to prevent the vacuum from running onto carpets, or to prevent the vacuum from cleaning where you do not want it.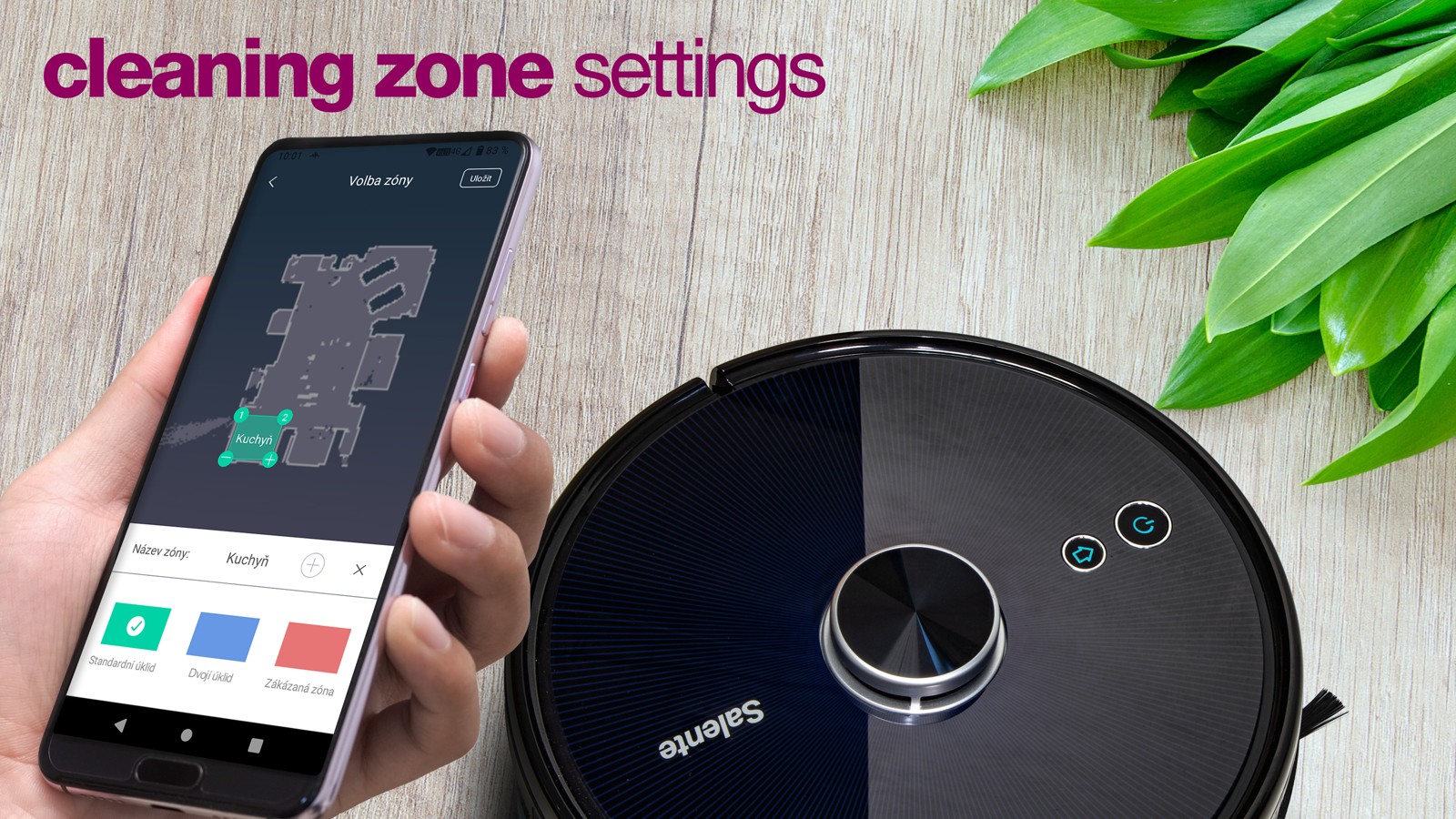 ---
• 360° laser radar, LDS + SLAM algorithm
• UVC LED lamp and UVC sterilisation mode
• speaks Czech, Slovak, Hungarian, Romanian and English
• vacuums and mops simultaneously
• Y-mop mopping mode
• innovative foam roller for hard floors
• mobile app control in CZ/SK/HU/RO/EN
• up to ten zones for cleaning settings
• floor surface adaptation
• automatic cleaning resume
• Alexa/Google Home voice control
• three suction power modes
• three levels for wet mopping
• central TURBO brush and a pair of side brushes
• sensors to protect the vacuum cleaner and furniture
• TOF sensor for glass and black wall detection
• three-level filtration with washable HEPA filter
• premium tempered glass surface against scratches
• water mopping
• scheduling option for cleaning at set times (deferred cleaning)
• bagless operation
• automatic charging at the charging station
• WiFi connectivity support
• firmware update via mobile app
• modern and quiet Japanese NIDEC BLDC motor with high 46 W power
• high suction power up to 3,300 Pa
• 600 ml dust container
• electronically controlled 2-in-1 300/350 ml water container
• high-capacity 5200 mAh Li-ion battery
• infrared remote control
• 350 mm diameter
• 80 mm height (100 mm including laser)
• 3.35 kg weight
Contents of the package
• Salente L7 robotic vacuum cleaner
• dust container for vacuuming (600 ml)
• 2-in-1 water container
• innovative foam roller for hard floors
• central TURBO brush
• infrared remote control
• rechargeable base with cable compartment
• 230 V power supply
• replacement HEPA filter
• replacement microfibre mopping cloth
• replacement side cleaning brushes (2 pcs)
• cleaning brush
• user manual
Be the first who will post an article to this item!
Be the first who will post an article to this item!