Salente JetSteam Pro, steam mop and hand cleaner 2in1
Hand and stick steam mop,
Eliminates up to 99.9% of germs and bacteria
For mopping hard floors and carpets,
Three steam generation modes,
Automatic start,
Rapid steam heating system in 25s
Working time up to 25 minutes
Rich accessories
Power 1400W
Power cable 6m
Category

:

Mops
EAN

:

8595683202732
Obj.kód

:

PMS JetSteam Pro
Waranty

:

24 months
Salente JetSteam Pro, Steam Mop and Hand Cleaner 2in1
The Salente JetSteam Pro steam mop is suitable for cleaning all household surfaces. It is suitable for hard floors, tiles, windows, ovens or barbecues and, thanks to the special glide, also for carpets. The high temperature of the steam kills up to 99.9% of germs and bacteria without the use of chemical cleaning agents. Steam cleaning is fast and highly efficient. The cleaned surface is perfectly clean and disinfected.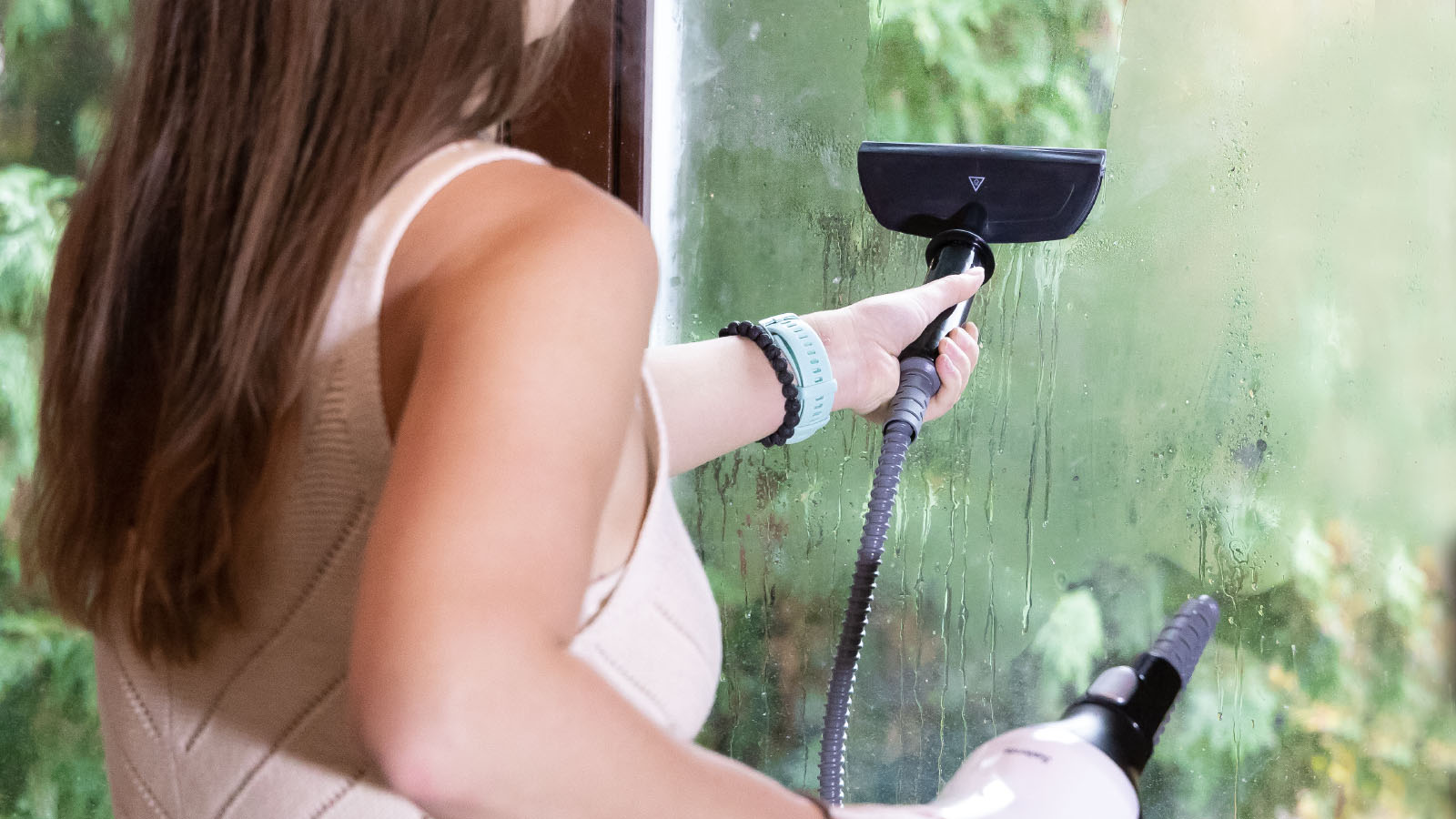 Wide range of applications
The steam mop can be used in hand mop or mop mode. The 110 °C steam jet easily dissolves all common dirt. In the manual mode, you can use it to clean tile joints, grease from the grill or use it to clean windows or showers. The range of applications is really wide and depends only on your imagination.
In mop mode, the Salente JetSteam Pro is ideal for cleaning all types of hard floors and carpets.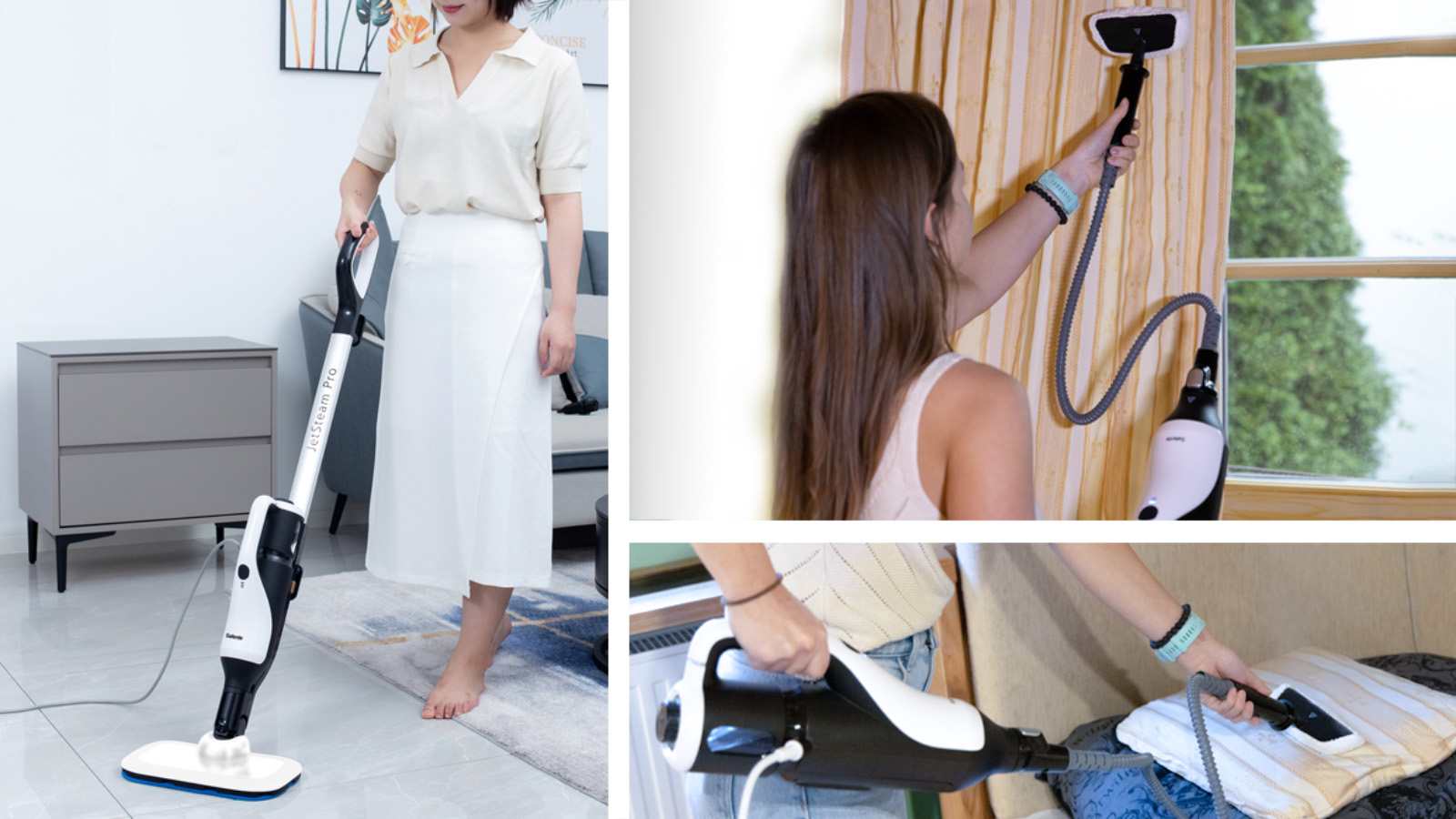 Automatic start when cleaning
Salente JetSteam Pro is equipped with a smart sensor that detects the position of the mop when cleaning. In mop handle mode, the mop can automatically detect whether it is upright or cleaning. Folding down the mop starts the mop itself, while standing it upright switches it off. This saves you time and energy when you put it away for a while.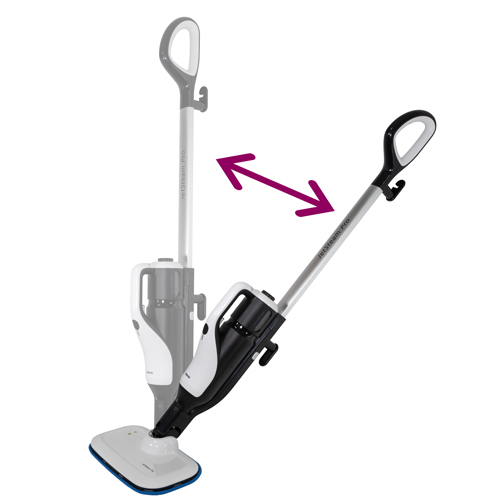 Three steam generation modes
The mop offers three steam modes: Low, Medium and High. You can conveniently control the amount of steam directly on the handle according to the type of surface to be cleaned. Lower power is suitable for upholstery or hard floors, medium power for carpets and high power for heavily soiled surfaces.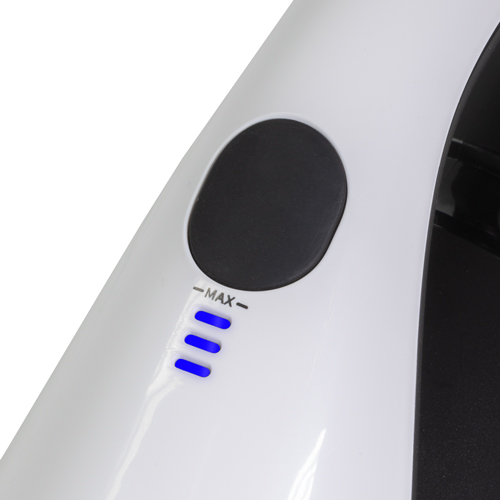 Hand cleaner mode
Easily detach the steam cleaner from the mop attachment to get a handheld steam cleaner that you can use for your next cleaning job. A squeegee for cleaning smooth surfaces, a brush for cleaning joints in the kitchen or bathroom and a universal brush for removing dirt from the oven or grill.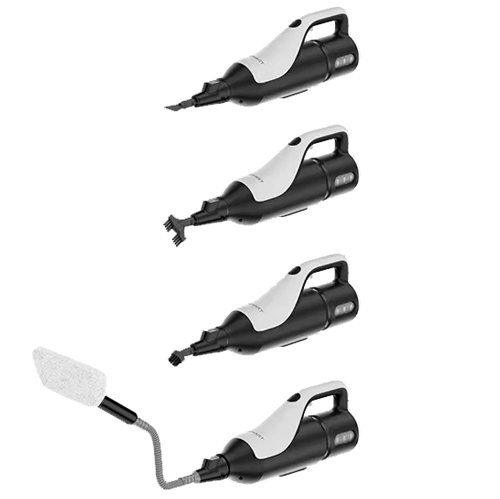 Rich accessories
The steam mop includes a wide range of accessories for various types of cleaning.

Universal wire brush - for cleaning the grill
Universal nylon brush 2pcs
Concentrating nozzle - for cleaning joints and gaps
Joint cleaning brush
Squeegee - for smooth surfaces
Steam spreader with/without fabric - for cleaning larger areas
Floor cleaning mop 2x
Carpet Slider - for carpet cleaning
Key Features
Handheld Steam Cleaner
Steam mop
Automatic start in mop mode
Three steam generation modes
Rapid steam heating system in 25s
Cleaning time up to 25 minutes without refilling water
High power 1400W
Water tank capacity 380ml
Power cable 6 meters
Carpet Rider
Cleaning Brush Set
Noise level <56 dB
Dimensions 1100mm x 300mm x 165mm
Weight 3.0 kg
Contents of the package
Salente JetSteam Pro Steam Mop
Universal wire brush
Universal nylon brush 2pcs
Angle attachment
Concentrating nozzle
Joint cleaning brush
Squeegee - for smooth surfaces
Hadice for better accessibility
Steam diffuser with fabric
Conical brush attachment
Floor cleaning mop 2x
Carpet Rider
Water refill tank
User manual
Be the first who will post an article to this item!
Be the first who will post an article to this item!