Salente R2, robotic vacuum cleaner, wet wiping, charging station, black
Sucks up dirt and mops simultaneously

Mobile application in English

Electronic water dosing

Four cleaning modes

Silent BLDC motor

Planned cleaning function

HEPA filter

Operation time up to 110 minutes

Noise less than 65 dB

Remote control

2500 mAh battery
2-in-1 robotic vacuum cleaner with a mobile application
The Salente R2 vacuum cleaner, with electronically controlled water dosing, vacuum cleans and mops your entire flat before recharging itself automatically. You can control your vacuum cleaner through your mobile app in English, it offers four modes of cleaning, and has a top-quality HEPA filter.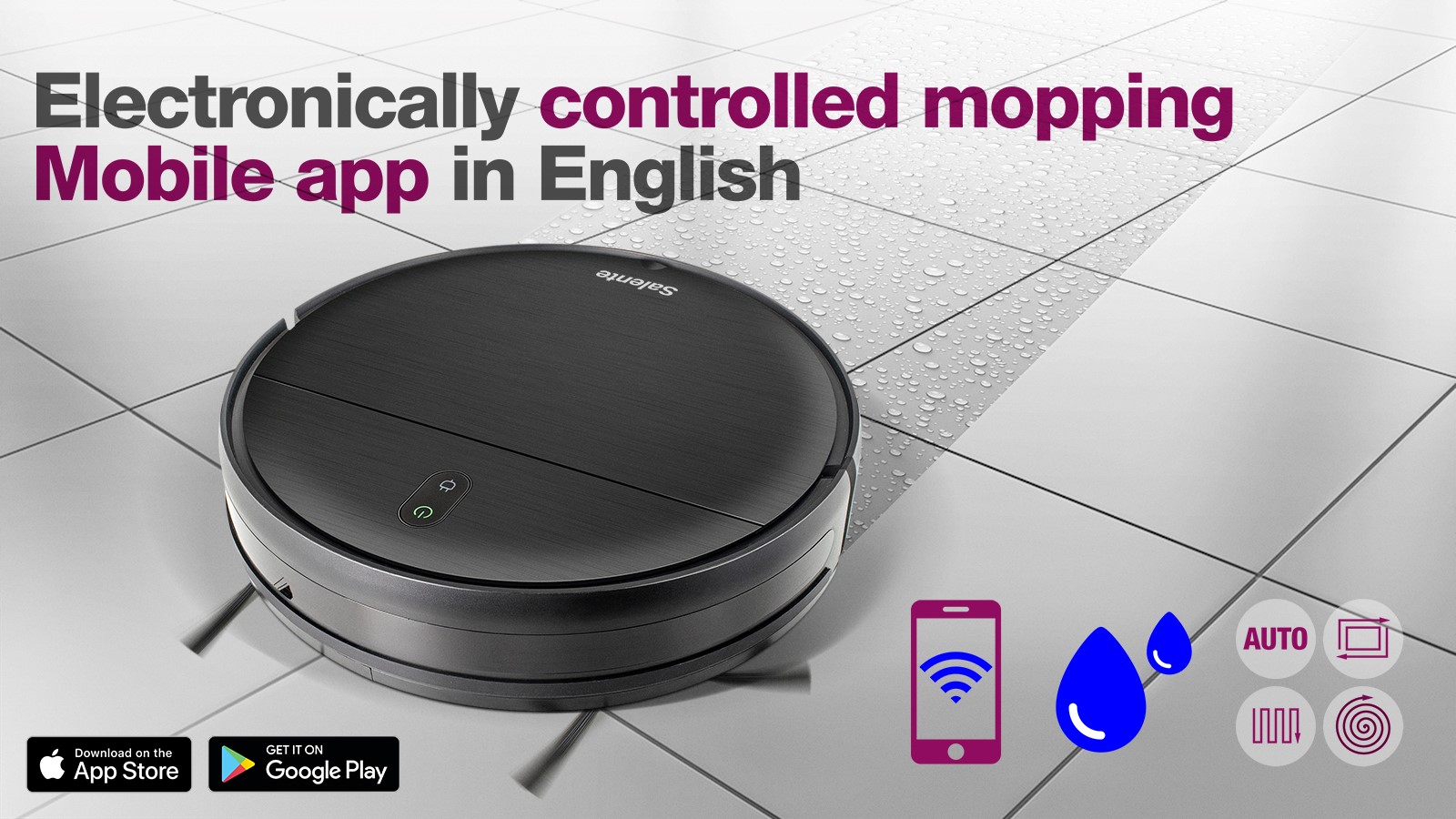 Vacuums and mops simultaneously
The Salente R2 has two containers – a separate bin for dirt and an electronically controlled water tank. The vacuum cleaner vacuum cleans dirt and sweeps the floor with a wet mop in one run. This dual action means cleaning is more efficient and faster.
Mopping for all floor types
Smart electronics ensure continuous dosing of water on three different settings, without excessively soaking the floor. Choosing the mopping setting for the right level of wetness enables you to use Salente R2 for all floor types, including wooden ones.
Four modes of cleaning
Salente R2 offers four cleaning modes that will leave your home always spick and span. You can use the Automatic Cleaning function to intelligently optimize your vacuum cleaner's route. Or you can activate the Perimeter Cleaning mode, and your vacuum cleaner will move alongside the walls and use its two rotating brushes to sweep up and vacuum clean all dirt. If you need to clean up spillages, for example some spilled flour, you can use Intensive Spiral Cleaning, whereas the Zig-Zag Movement mode is ideal for large rooms.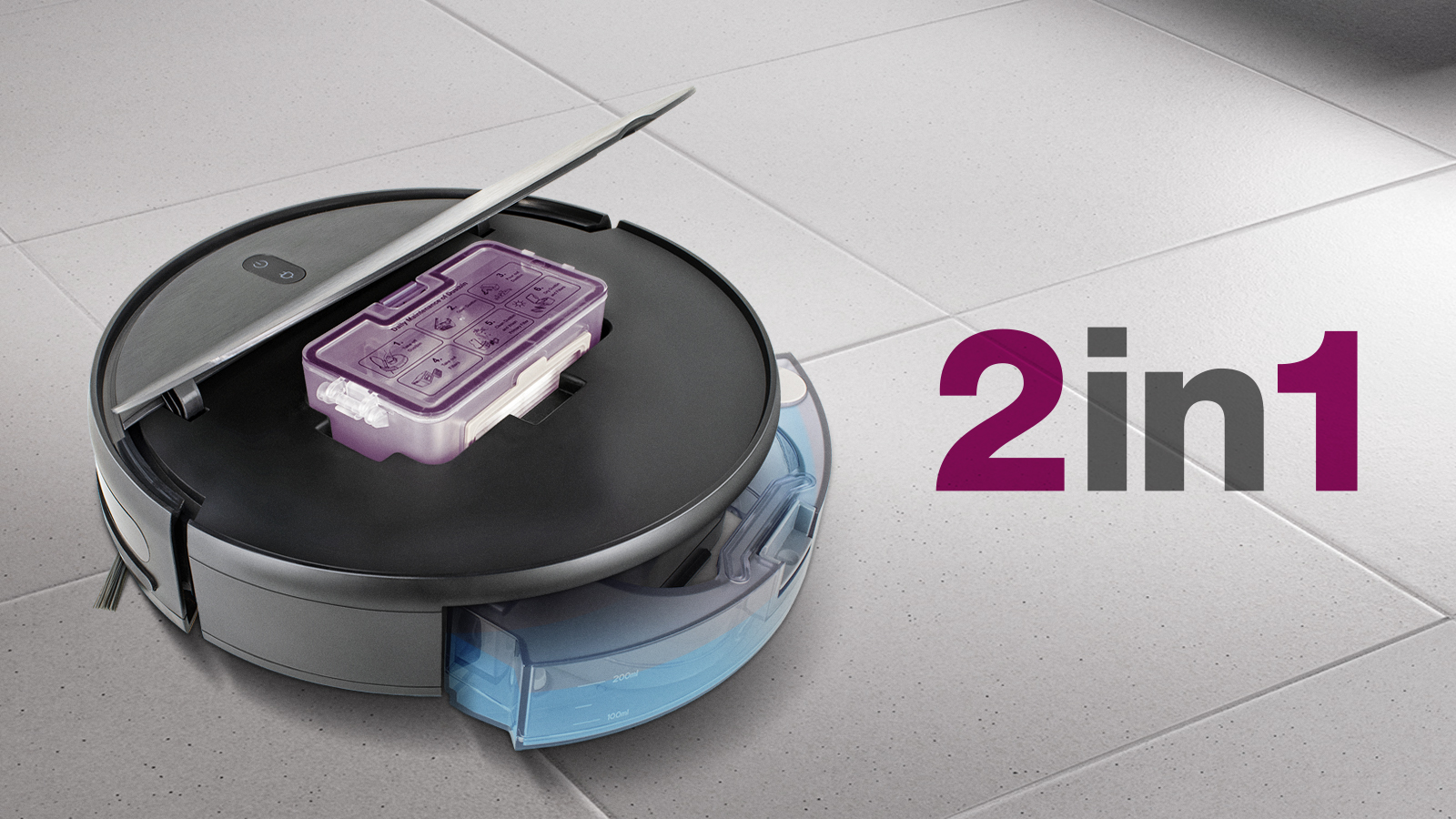 Mobile app in English
Your Salente R2 robotic vacuum cleaner can be controlled via your mobile app in English. The app makes the vacuum cleaner easy to use, while reporting its current condition or battery status. You vacuum cleaner supports voice control technology, so you can use voice commands to control it.
The mobile application is designed for Android and iOS operation systems.
If you're not a fan of mobile technology or have no Wi-Fi connection, you can control the cleaner using the remote control supplied with your device or the buttons on its body.
Cleans whenever
The app includes a calendar planner, in which you simply pick the time you want the vacuum cleaner to start cleaning. Then you can go to work or out with friends, and when you return everything will be perfectly clean.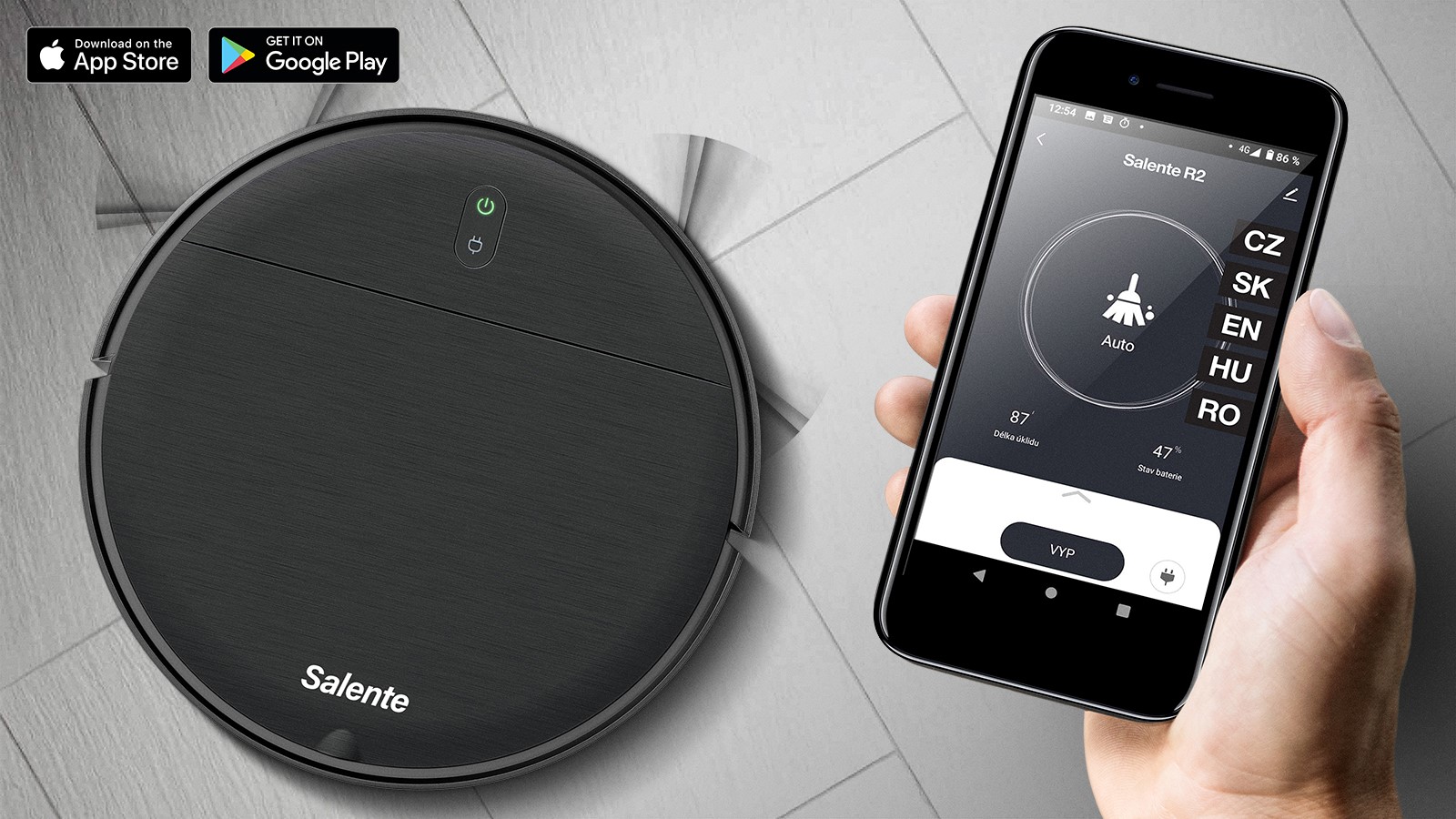 Two filtration levels with a washable HEPA filter
Two-level filtration with a washable HEPA filter helps capture fine dust, allergenic mites, and animal allergens. It also prevents small particles from escaping back into the air. Maintaining the vacuum cleaner is simple, and you don't need any disposable paper bags. The HEPA filter is washable and can be used repeatedly.
Modern, silent, and efficient BLDC motor
The high-performance BLDC motor provides a long service life and is more reliable, quieter, and more efficient than your traditional motor.
High-capacity Li-ion battery
The high-capacity 2500 mAh Li-ion battery provides enough energy for long cleaning. After the cleaning is done, the vacuum cleaner automatically returns to its recharging station, where replenishes the battery and sits ready for its next cleaning.
---
• vacuum cleans and mops simultaneously
• mobile application in CZ/SK/HU/RO/EN
• four cleaning modes
• electronically controlled mopping
• planned cleaning
• two-level filtration with HEPA filter
• Alexa/Google Home voice control
• two suction performance modes
• three mopping settings
• two antistatic side brushes
• furniture and vacuum cleaner protection sensor
• sensor to prevent falling down stairs
• cleaning modes: automatic, perimeter, spiral, zig-zag, and manual
• no-bag operation
• recharges automatically in its recharging station
• control buttons on the vacuum cleaner's body
• WiFi connection support
• firmware update via mobile application
• cleaning time 110 minutes per charge
• silent operation (less than 65 dB)
• suitable for all types of hard floor and low-pile carpets
• washable HEPA filter
• modern and silent BLDC motor
• high suction performance up to 1400 Pa
• 200 ml container for dust
• 250 ml electronically controlled water tank
• 2500 mAh, high-capacity Li-Ion battery
• infra-red remote control
• 300 mm diameter
• 74 mm height
• 2.5 kg weight
Contents of the package
• Salente R2 robotic vacuum cleaner
• vacuum dust bin (250 ml)
• water tank for mopping (250 ml)
• infra-red remote control
• 2x AAA battery
• charging station
• 230 V power source
• spare HEPA filter
• spare micro-fibre mopping cloth
• 2x spare side cleaning brush
• little cleaning brush
• user manual
Be the first who will post an article to this item!
Be the first who will post an article to this item!